Incoming Company Mission – Fair "Pchelomania 2016″ "Bee Mania 2016″
Incoming Company Mission – Fair "Pchelomania 2016″ "Bee Mania 2016″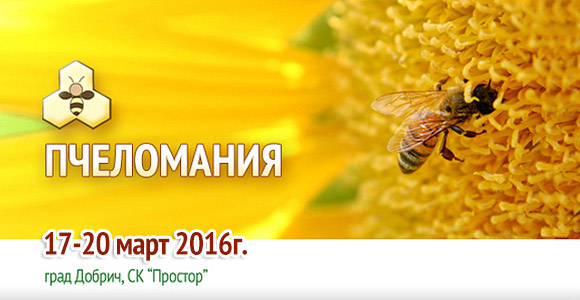 All companies from Constanta region interested in beekeeping or working in the beekeeping sector are welcome to participate.
The participation is restricted to clients of the organizers.
There is no specific website for this event. All participants will register through the following weblink: https://www.cognitoforms.com/EENDobrich/RegistrationFormBeeFair2016
The specialized exhibition "PCHELOMANIA" became the most famous exhibition in the northeast of Bulgaria for presenting new trends in bee equipment and accessories. The first edition of exhibition was in the early 2003 because of the fact that Dobrudzha produces 35% of Bulgarian honey. Each year the exhibition takes place in "Sport complex Prostor" – Dobrich. The visitors commonly exceed 7 000 people.
Short video presentation of the Bee Fair: https://www.youtube.com/watch?v=D6SC9e01Vnk
The topics covered:
Bee equipment – Beehives, Pollen traps, Hive tools and Accessories, Smokers, Swarm catchers, Bee brushes, Bee escapes, Frames, Honey presses, Queen excluders, Outer covers, Feeders.
Protective equipment - Protective jackets, Overalls, Beaded neck clothing, Hats, Veils, Gloves.
Bees wax – Foundations, Wax tanks, Foundation Rollers, Foundation Moulds, Professional Foundation machines, Wax melters/Wax capping melters.
Uncapping equipment – Uncapping Trays and Tanks, Uncapping Machines, Uncapping Tools, Honey looseners, Centrifuges
Honey extractors – Quality Hobby extractors, Self turning Extractors, Radial Extractors, Spare parts and Accessories
Strainers - Conical Strainers, Double strainers, Straining systems, Centrifuges
Tanks – Plastic pails & Bottling tanks, Stainless Steel Tanks, Homogenizer/Creamer and accessories
Others – Licensed manufacturers of queen bees, Veterinary preparations, Vines and fruit seedlings
Why to participate?
– To establishing commercial partnerships
– To initiate cross-border contacts and co-operations
– To reach the Bulgarian bee market and its key players
– To establish cross-border contacts with Bulgarian companies
– To get latest information on bees and bee related equipment trends in Bulgaria
– To order bee equipment for your business
Registered companies: